Campus Saint-Jean: A Unique and Long History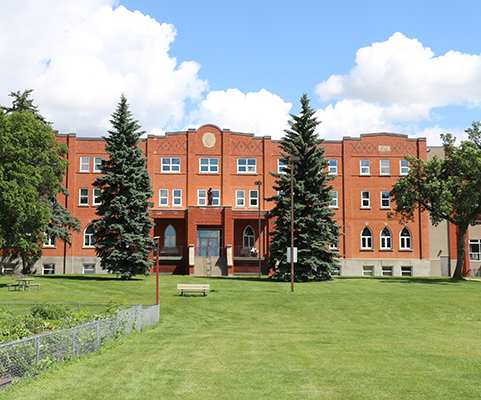 Founded in 1908 by the Oblate Order, Campus Saint-Jean (CSJ) became a faculty of the University of Alberta in 1977 following an agreement between the Province of Alberta, the University of Alberta, the Oblate Order (role now delegated to the ACFA) and the Federal Government.
Campus Saint-Jean is the only French-language university-degree program west of Manitoba with a province-wide mandate and students coming from Alberta and all Western provinces and Northern Territories as well as internationally.
Its mandate is to serve the Francophone community of Alberta and of Western Canada as well as the growing number of students out of French Immersion programs, providing a high level bilingual workforce for Alberta.
Over the years, Campus Saint-Jean has served and trained many students, able to work in both official languages, who have distinguished themselves on the provincial, national and international scene. Here are a few:
Randy Boissonneault, MP for Edmonton-Centre (2015-2019)
Adam Brown, Past UA Students' Union External VP
Emerson Csorba, Founder of Gen Y Inc.
Laurier Fagnan, Professor and Music Program Manager at Campus Saint-Jean
Laila Goodridge, Former MLA for Fort McMurray-Lac La Biche (2018-2021) and Parliamentary Secretary Responsible for Alberta's Francophonie (2019-2021)
Cindie LeBlanc, Former Executive Director of the Francophone Secretariat
France Levasseur-Ouimet, Professor Emeritus at Campus Saint-Jean
Deni Lorieau, Former Official Languages Commissioner's Representative
Krista Monson, Artistic Director, Casting Director, Writer/Conceptor, Creative & Stage Director for Cirque du soleil (2004-2017)
Mary Moreau, Chief Justice of the Alberta Court of Queen's Bench
Darren Schemmer, SFU International Executive Director and former High Commissioner of Canada to Ghana and Ambassador to Togo
Claudette Tardif, Former Dean of Campus Saint-Jean (1995-2003) and Former Senator from Alberta (2005-2018)
A Growing French-Speaking Community
The French-speaking community in Alberta has experienced significant population growth. According to the 2016 Census (which significantly underestimates data relating to French knowledge), the number of Albertans who declared French as their mother tongue has increased by 31% since 2001. The number of people able to conduct a conversation in French has increased by more than 50% since the 1990s. After Ontario and New Brunswick, Alberta has the largest French-speaking minority population in the country and the third largest community of French-speaking newcomers outside Quebec, after Ontario and British Columbia.
An Increase in the Demand for Services in French
This demographic growth creates an increase in the demand for services in French, including and especially in the field of education. For example, the enrollment of French-language schools in Alberta has doubled in the past 20 years and is expected to more than double by 2030, with section 23 of the Canadian Charter of Rights and Freedoms being quietly implemented. For the same period, the number of students enrolled in French immersion in Alberta increased by almost 60%.
This is why Alberta has for years faced a significant need for a qualified bilingual workforce and a shortage of French-speaking teachers and other education professionals.
Today
CSJ plays a key role, welcoming more than 900 students every year, as enrolment has increased by 40% since 2014. The programming includes :
College Programs in Business Administration, Tourism Management, Early Childhood Education, and Health Care Aid
Bachelor Programs in Humanities, Social Sciences, Education, Sciences, Business Administration, Nursing and Environmental Sciences (the last three, formal bilingual programs)
Master's Programs in Arts or Education.
The CSJ contributes to Alberta's economic diversification. The precarious economic environment in Alberta intensified as a result of the COVID-19 pandemic. The province now faces an unprecedented drop in the price of a barrel of oil. More than ever, it is crucial to support the institutions that contribute to the diversification of the Alberta economy, including the CSJ, which trains a versatile and bilingual workforce able to access stable jobs.
The 1976 Agreement already recognized the importance of CSJ in responding to the growing demand for French-speaking teachers and a bilingual workforce in Western Canada (preamble, art. 3.1). That is why it provides a particular obligation for the University of Alberta to operate, maintain, improve and develop the CSJ to the best of their ability (art. 3.2). The 1976 Agreement also imposes obligations on the Government of Alberta in regard to the funding of the CSJ, including the obligation not to reduce its subsidies when it receives federal funds in French-language education for the CSJ (art. 3.7).